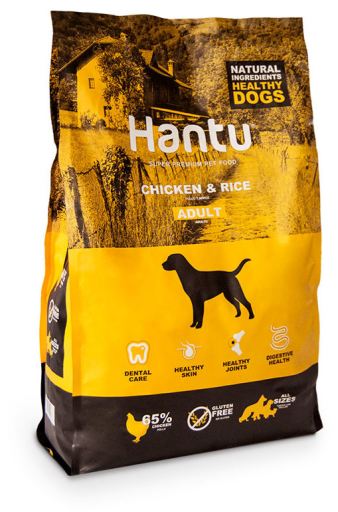 customer_also_bought_ani
Traveness

Traveness

Traveness
Description
Adult Chicken and Rice Hantu
Hantu Adult Chicken & Rice is a natural food for adult dogs from the age of twelve months. For all sizes and breeds.
A complete, balanced and nutritious diet that, thanks to the prebiotics and vitamins it contains, improves the digestive, dental, skin and locomotive system health of the dog

CHARACTERISTICS:

- 65% Chicken

- Gluten free

- For all breeds


BENEFITS:

- Dental Care: The design of the kibble helps to keep the teeth and gums clean and healthy producing a brushing effect. The correct balance of calcium and phosphorus reduces the deposit of dental plaque.


- Healthy Skin: The zinc, vitamin A and fatty acids contained in HANTU help to maintain healthy and shiny skin and hair.

- Healthy Joints: Vitamin D and the correct balance of calcium and phosphorus help to maintain healthy and strong bones and joints.

- Digestive Health: The prebiotics (FOS + MOS) added to the food promote the growth of the intestinal flora improving digestion and absorption of nutrients.
Ingredients
Adult Chicken and Rice Hantu
COMPOSITION: Fresh chicken (33%) Dehydrated chicken (27%). Rice (14%). Ceylon creeper fat. Chicken liver hydrolysate (5%) Rice protein. yeast beet pulp. fish oil sodium chloride sodium polyphosphates potassium chloride Inulin (0.1%.FOS). Mannose.oligosaccharides (0.1%-MOS). Yuyos schidigera.

ANALYTICAL COMPONENTS: Crude protein 26%. Crude oils and fats 16%. Gross fibres 2.60%. Gross ash 8%. Calcium 1.30%. Phosphorus 0.85% ADDITIVES: Nutritional additives: Vitamin A 18,000 Ul/kg. Vitamin D31.800 UI/kg. Vitamin E 250 mg/kg. Vitamin C 100 mg/kg. Iron (ferrous sulphate monohydrate) 68 mg/kg. Iodine (potassium iodide) 3.2 mg/kg. Copper (cupric sulphate pentahydrate) 9 mg/kg Manganese (manganese sulphate monohydrate) 6.8 mg/kg. Zinc (zinc oxide) 135 mg/kg. Selenium (sodium selenite) 0.1 mg/kg. L-carnitine 70 mg/kg. Taurine 30 mg/kg.

TECHNOLOGICAL ADDITIVES: Antioxidants Natural extracts rich in tocopherols
Features
Adult Chicken and Rice Hantu
Reference

8413037950378

Weight

12 KG, 2,5 KG

Units

1

Physical Activity

Average

Nutritional Conditions

Natural, Gluten Free

Age

Adult

Flavor

Special Cares

Dental, Joints and Bones, Digestive, Intensive Care,

Brand

Hantu
Customer Reviews
Adult Chicken and Rice Hantu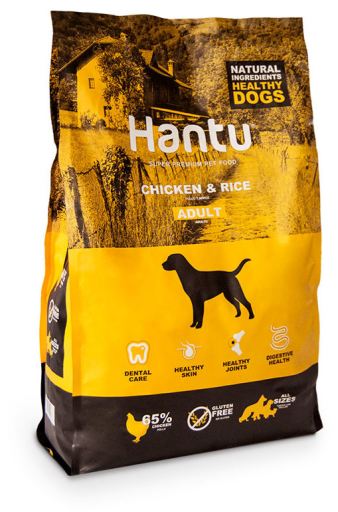 A mi perro le encanta, Antea le daba Royal Canin, pero este le gusta mucho y le sienta muy bien. Es un Shar Pei.
Me gustara que el pienso fuera un poco ms grandes los granos