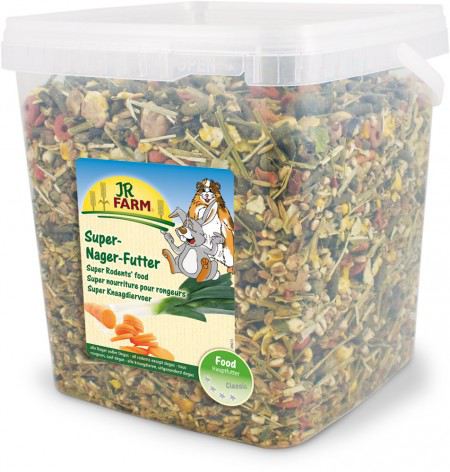 Description
Alimento Super Roedores Cubo Jr Farm
JR FARM Super Rodents Food is the Premium mix for all rodents.

Rich in vegetable, vitamins and minerals.

Feeding recommendation:

Only fill up the feeding bowl when it is almost empty.

Please only provide the amount of food per day that can be completely eaten in 24 hours.

In addition, enough fresh hay should always be available.
Ingredients
Alimento Super Roedores Cubo Jr Farm
Ingredients: Wheat 23%, extracted cornmeal, dried grass meal, wheat flakes 10.5%, maize flakes, maize, oats, hay, alfalfa 8.5%, field bean flakes, carob bean, wheat bran 2%, sunflower extract shreds, sunflower kernel, pea flakes, carrot pellets 1.5%, carrots 1.5%, popped wheat 1.5%, leak 0.5%, malt germ Additives: nutritional additives: Vitamins (A 10,000 i.E., D3 1,000 i.E., E 25 mg, C 250 mg) Analytical constituents: Protein 14.7%, fat content 3.5%, raw fibre 18.0%, raw ash 5.6% 2,5 kg
Features
Alimento Super Roedores Cubo Jr Farm
Reference

4024344056963

Weight

2,5 KG

Brand

Jr Farm
Customer Reviews
Alimento Super Roedores Cubo Jr Farm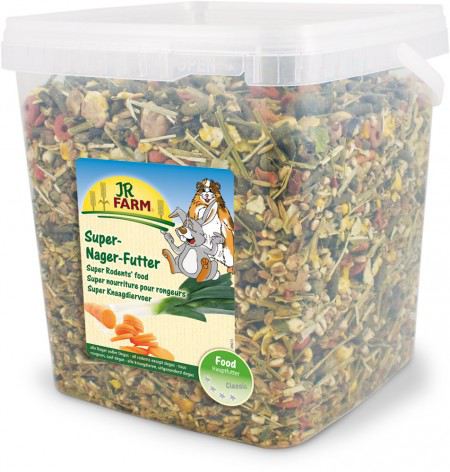 A mi Chinchilla le encanta y encima cunde bastante. Perfecto
Óptima relação qualidade preço.